Behringer DeepMind 12










This product has been ordered and is expected to arrives in the next few days.

Item number: 402983
sales unit: 1 piece
available since: 2016/12/29
Number Of Keys: 49
Touch-Sensitive: Yes
Aftertouch: Yes
Split Zones: No
Modulation Wheel: Yes
Number of simultaneous Voices: 12
Sound Engine: Analogue
MIDI interface: 1x In, 1x Out, 1x Thru
Storage Medium: Internal
USB-port: Yes
Effects: Multieffect processor
Arpeggiator: Yes
Number of Analog Outputs: 2
Digital Output: No
Display: Yes
The prices in € are a guideline only.
Product Details
12-Voice Analogue Synthesiser
49 Semi-weighted full-size keys
Velocity-sensitive keys with aftertouch
4 FX Engines powered by tc electronic and Klark Teknik
24 Oscillators - 2 OSCs and LFOs per voice
3 ADSR generators
Switchable 2- or 4-pole low-pass filter per voice
High-pass filter
8-Channel modulation matrix
32-Step control sequencer
Envelope depth
Key tracking
Remotely control via iPad/PC/Mac and selected Android apps via USB, MIDI or built-in wi-fi
26 Controllers and one switch per function for direct access to all important parameters in realtime
1024 Program memories
Built-in and adjustable wi-fi client
LC display
Dimensions (W x D x H): 822 x 257 x 103 mm
Weight: 8.4 kg
Designed and engineered in the UK
Suitable bag: Article Nr. #479789# (not included)
Suitable case: Article Nr. #416352# (not included)
Affordable analog synthesizer with expansive features
With 12 analog voices, a modulation matrix, 32-step-sequencer and four high-quality FX-engines, the polyphonic Synthesizer Behringer DeepMind 12 is equipped with characteristics, that were not available in the great era of the analog synthesizers, and which other modern devices can not offer either, and all this for an unbeatable price. The 49-keys keyboard can be used to provide massive sound scapes, rhythmic modulated sequences and Arpeggios as well as distinctive lead sounds, both on the stage as well as in the studio. With its analog signal path it provides the beloved, warm sound character and the four FX-Engines with algorithms by TC Electronic and Klark Teknik are valuable additions, especially for Live applications. These built-in effects also save on additional equipment.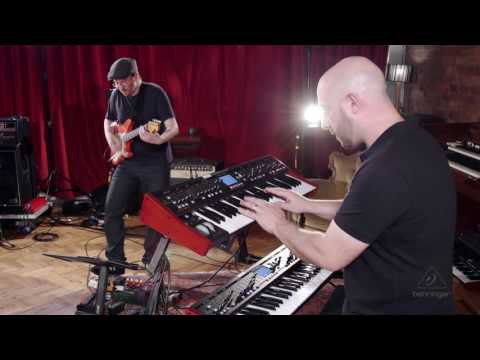 Polyphonic Analog synthesizer with 4 FX-Engines
The sound generation of the DeepMind 12 is blessed with two oscillators, a 12/24 dB low-pass filter and a VCA in its analog signal path. Oscillator 1 generates Saw and Square/PWM, Oscillator 2 Square/Pulse with a special Tone parameter. For modulation each voice boasts three ADSR-envelopes as well as two LFOs with seven wave-forms, including Sample & Hold, which can also be synchronized to a MIDI-Clock. In total, 19 modulation sources allow themselves to be assigned to more than 130 different destinations via the internal matrix, this offers a lot of room for sound experiments. Since sounds are usually mixed with effects, On-Board-FX is standard nowadays. In the DeepMind 12 there are four effect units available which can be used in parallel, and whose more than 30 algorithms such as Reverb, Chorus, Phaser, Delay etc. allow you to enhance the sounds of the synthesizer even further.
For Live-Keyboard players and sound tinkerers
For stage use the DeepMind 12 not only has all the necessary features on-board, but also possesses a clearly structured control surface, which gives you quick access to all the important parameters that you want to be able to change intuitively while playing. The presets allow for quick navigation and the modulation wheels and besides numerous Faders plus buttons there are also two connections for pedals to serve as playing aids. The easy accessibility by way of the user surface and interface makes the generation of your own sound creations very simple. If you want to delve even deeper into this subject matter, the parameters organized in menus can alternatively be addressed by way of an App (iOS/PC/Mac) or by using an additional MIDI-Controller. In this way the sounds can then be automated via a DAW.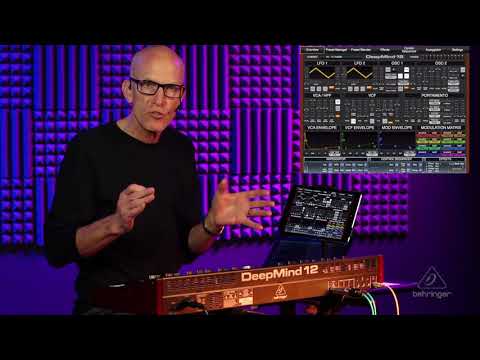 About Behringer
The company, which was founded in Germany by Uli Behringer and which now produces their items in China, has been known for inexpensive equipment that offers great value since their very first product, the Studio Exciter F. Mixing consoles, such as the Eurodesk MX8000, as well as a myriad of signal processors and later also sound amplification equipment made it possible for countless musicians to outfit their home studios, practice rooms and mobile PAs with equipment despite being on a limited budget, otherwise doing this might well not have been affordable. The product range of Behringer steadily grew over the years. The acquisition of other companies, among others Midas, Klark Teknik and TC Electronic, meant that new product groups were added, but it also resulted in the technical know-how of these companies being incorporated into product development. The still young synthesizer division of Behringer continues the philosophy of the firm, which is to offer truly affordable equipment with above-average and outstanding features.
Pads and other Poly-Sounds
In the analog world 12 voices are still a very high number nowadays. It is much more common to find polyphonic analog synthesizers with eight, six or even only four voices. Consequently the DeepMind 12 can be used for "big" chords and many-voiced pads as well as sounds with longer release, without having the voices be cut-off too rapidly. The sonic structure of the DeepMind is based on the great analog classics from the 70s and 80s with two oscillators and low-pass filters per voice. It is musically designed and has proven itself in countless applications as well as the most diverse genres, the design ensures that you quickly become familiar with the instrument and can proceed to focus and work on your own sounds in a targeted manner.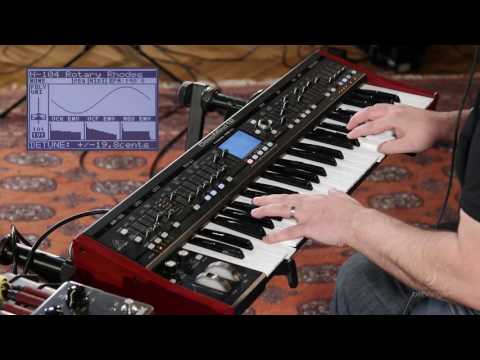 In the spotlight: DCO - Digitally Controlled Oscillator
The oscillators of the DeepMind 12 are, like on certain synthesizers from the 80s (for example Roland Juno series and JX series), implemented as DCOs. These are often mistakenly classified as "digital". In fact we are dealing with analog oscillators, but they are digitally controlled to achieve a reliable tuning stability, which is indispensable. Especially when it concerns a polyphonic synthesizer. This feature prevents the well known analog drift of the tone pitch, which occurs mainly due to temperature fluctuations that can happen during longer periods of operation. The actual generation of the wave-forms is essentially analog.
Related Products